ST. XAVIER'S SCHOOL, HAZARIBAG
HOXANs Online
An Elsewhere Place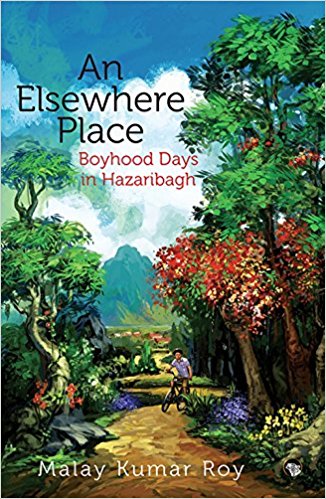 It is with great pride we inform that "An Elsewhere Place" written by senior Hoxan Moloy Gopal Roy (1961) will be featured in the Ranchi Litfest.
In the words of Moloy-da:
" In this book I have recalled the years I spent in Hazaribagh from the early '50s to the early '60s. This was a time of innocence and wonderment. Of growing up in the wonderful atmosphere of Hazaribagh. Of the beauty of the seasons. And importantly, the wonderful years in St. Xavier's where we studied and grew up, where we formed enduring friendships and relationships. The book speaks of the Jesuit Fathers who taught us, and from whom we learnt so much in terms of the values of integrity ( fr. Moore, Fr. Grogan, Fr. Cronin etc.). The book is about the days in Hazaribagh, never to return.
The book has 5 sections - 1) Introduction to Hazaribagh, 2) Stories concerning the villagers and townsfolk living in and around Hazaribagh, 3) Stories concerning visitors from outside, 4) Startling wildlife encounters and 5) schooldays and experiences at St Xavier's, Hazaribagh."
I do hope we have a good Hoxa crowd on 9th December 2018 at the venue which is Audrey House, Kanke Road ( near Raj Bhawan) Ranchi. I'm sure us Hoxans can meet and exchange our memories of the wonderful years in Hazaribagh."
We encourage all Hoxans in Ranch to attend / enjoy the festival and provide wholehearted support to Moloy-da.
Malay Kumar Roy studied in St Xavier's School, Hazaribagh, from where he completed his Senior Cambridge (class of 1961). From the early 1950s to the early '60s he lived in Hazaribagh in the Chotanagpur district of Jharkhand, then a part of Bihar. Working in the corporate world for close to 50 years left little time for much else, and after retirement, he writes his book "An Elsewhere Place - Boyhood Days in Hazaribagh"
In this book he writes about the wonderful charm and ambience of Hazaribagh of that time. He writes about his years in St Xavier's School, of the Jesuit fathers who taught there, of the fundamental human values they shared - integrity, knowing right from wrong, curiosity. He writes about the way they taught that made the subjects come alive and go beyond the confines of the text book. He narrates anecdotes that showed their infectious sense of humour. And he shares memories of his school mates.
He vividly describes Hazaribagh's serene landscape, the beautiful tone and texture of its changing seasons. The book recalls startling wildlife encounters. It speaks about the joys and sorrows of village folk - old and young, and incidents - mostly hilarious - that relate to vacationing visitors to Hazaribagh.
"An Elsewhere Place" is about a time never to return. It evokes a gentle, easy -going time when people lived in close harmony with nature. This book is about days of friendships, wonder, innocence and grace.
Synopsis courtesy: HOXA Kolkata
For more info and/or to order this book click on the following links: