ST. XAVIER'S SCHOOL, HAZARIBAG
HOXANs Online
In Memory
Fr. Bernard Donnelly Sj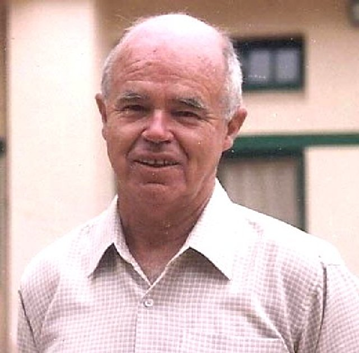 Fr. Bernard Donnelly SJ (1933-2017) , former Principal of SXS, Hazaribag (year 1985-1993) died Feb 16th, 2017 at Sitagarha around 12.15pm. His dead body was kept in sitagarha, hazaribag for the visitors for their last homage. Burial will be tomorrow (2/17) at Sitagarha at 2.30 pm.
Fr. Donnelly first joined St Xavier's in January 1958 and like a number of his contemporaries he came to the school straight from Australia, spending three years in the classroom and as dormitory prefect. After that he lived in Ranchi for two years, during which time he studied Hindi and took his degree from St Xavier's College. In the years between this and his taking up the post of Principal in January 1985 Fr. Donnelly was engaged in a number of Jesuit undertakings including a year with Fr. Moore in Bokaro Steel City as Manager and teacher, and six years (1974 – 1980) as Regional Superior of the Hazaribag Jesuits.
Fr Donnelly brought St Xavier's into the computer age. He installed a computer in the office, probably the first school in the town to have one. Then to provide for computer teaching that would be available to students of St Xavier's and also St Robert's, which was still in the campus, he did some building alterations and opened the Fr John Moore Computer Centre.
Fr Donnelly was instrumental in reviving contacts with former students of St Xavier's. HOXA underwent a rebirth; one of the results of this was that a group of HOXAN doctors, including Dr Sandeep Mukherjee and Dr Lalit Jain formed a volunteer medical team providing psychiatry services; an offshoot clinic now functions from the school campus, the first Wednesday of each month.
During his tenure as Principal Fr Donnelly's easy friendliness and unassuming relationships with staff and boys, as well as old boys, made for a happy school family.
Few days back Fr. Bernie was admitted to the Medanta Hospital, Ranchi for the treatment of a broken head of femur (a part of the bones in the hip). Same time, he also underwent open heart surgery for multiple blocked blood vessels in the heart. Everything had gone well so he was discharged and brought to Sitagarha , Hazaribag for medication and rest. However, starting on the 15th of February, 2017, his health took a turn for the worse; on the 16/02/2017 morning he was taken out in wheel chair trip along the corridor. Later he developed breathing difficulties and quietly passed away at 12.15pm. May the loving Lord give him eternal rest and consolation to all his dear ones.
Info provided by:
Fr. Rosner Xalxo S J
Principal,
SXS, Hazaribag
We will update this page with more info on Fr. Donnelly.